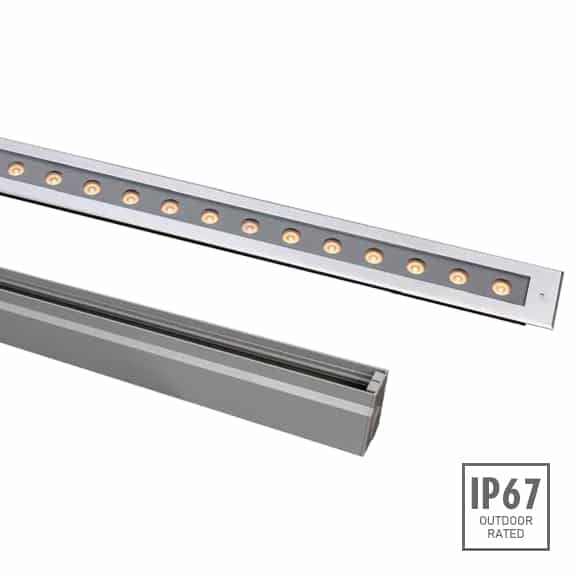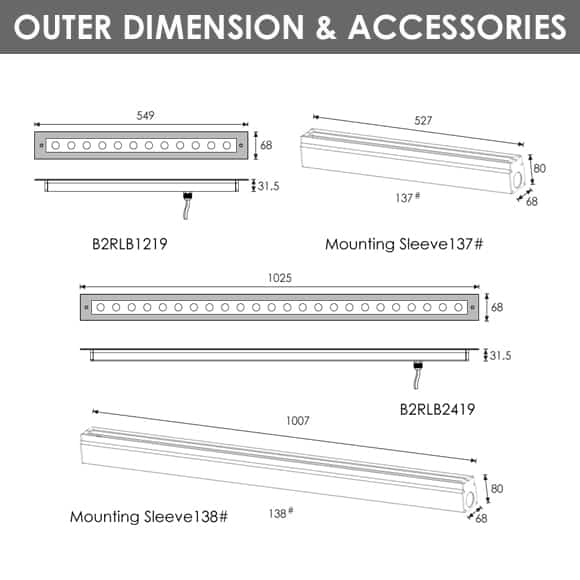 RGBW Lights - B2RLB1219 | B2RLB2419
RGBW Linear Wall Washer with aluminium mounting sleeve, IP67 rating, 6MM tempered glass, SMD 3535 LED, 30⁰ lens angle. Competitively priced, high-quality products with wide range (30+ designs).
Premium quality Wall washer inground lights at competitive price, with a range of optics and sizes to select. New range of wall washer has color option of RGBW with DMX controls. Can be used by lighting designers & architects to create fabulous night time aesthetics, accessibility, security and other special social events for private gardens, public landscapes and LED outdoor lighting.


Compare us with the best outdoor lighting manufacturer before buying the products
A free installation guide is provided with each product
Check out the fascinating designs, quality, and prices
Click the box below to download individual product ecatalog and check out other products of your choice
Some of the highlights are as follows:
Material Specifications: B2RLB1219 | B2RLB2419
Housing:

Extruded aluminum, powder coated

Front Cover:

Hard chromeplated stainless steel SUS 316L#

Light Window:

Tempered glass. T=6mm

LED:

SMD 3535 4in1 LED

Cable Gland:

IP68 PG-9 PA66

Gasket:

Glass and housing are silicone sealed

Lens:

Optical lens.efficiency≥85%

Operating Temperature:

-20⁰C~40⁰C

Power Cable:

H05RR-F 5X0.75mm2 L=0.5m

Mounting Sleeve:

Powder Coated Aluminum 138#

CCT:

RGBW
| Model Number | Light Source | Lens | Lens Degree | Length | Input Voltage | Operating Current(MA) | Consumption (W) | Lumance (LM) | IK |
| --- | --- | --- | --- | --- | --- | --- | --- | --- | --- |
| B2RLB1219 | 12x2W RGBW 4in1 | B48 | 30⁰ | 549 | 24V DC | 24V=1020 | 24V=24.5 | 1114 | 07 |
| B2RLB2419 | 24x2W RGBW 4in1 | B48 | 30⁰ | 1025 | 24V DC | 24V=2008 | 24V=48.2 | 2162 | 07 |

IP68 WATERPROOF CONNECTORS




RGBW recessed wall grazer, perfect for any need or application. Whether you're looking for an RGBW spotlight, inground light, or underwater light, we have just what you're looking for. And with our competitive prices, you can't go wrong!
With a IP66/IP67/IP68 rating, these lights are perfect for outdoor use, and can even be used underwater or in facade lighting projects. Made with high quality materials like aluminium die-cast and SS316, RGBW LED lights are available in standard powder-coated colors like sanded grey, black, and silver. Plus, with DMX controls, you can easily synchronize colors.
Similar Products : Outdoor LED Lighting
If you're looking for a modern and professional way to highlight your shrubs and plants, RGBW inground lights are the way to go. These LED lighting fixtures are perfect for creating a beautiful ambiance and enhancing your environment. With different beam angles, you can combine LEDs to create infinite architectural and interior lighting solutions.
The RGBW recessed wall grazer is a versatile and easy-to-use LED light and is perfect for landscape applications. With an adjustable beam angle, you can customize the lighting to fit your needs. Plus, our multi-color LED landscape lighting is easy to install and even easier to manage. RGBW LED lights are a great way to light up any exterior. A small floodlight with a single high power LED can illuminate plants & architectural details. 
The luminaires have features such as long life, limited maintenance and constant lifetime performance. The RGBW spotlight is a colour changing light that includes: Red, Green, Blue and 3000K Warm White. It is used for illuminating flower beds, statues and small plants.
RGBW recessed wall grazer s are perfect for both color changing applications and static color lighting. It is also available in multiple lengths to cater to any exterior structure. With a 3-5 year lifespan, our RGBW lights are perfect for any high-end landscape lighting project.