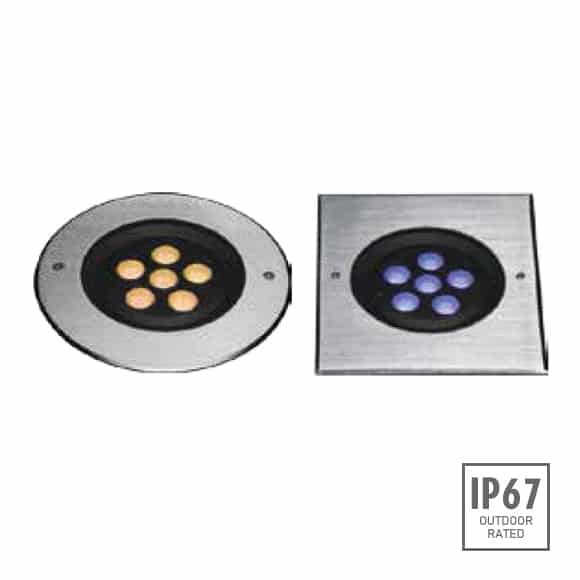 RGB Lights - FB2VAR0619 | FB2VAS0619
RGB LED Inground Light made from high grade components. 20° & 30° lens, 729 lumens/watt, 6x3W RGB, IP67 outdoor rating .Competitively priced, high-quality products with wide range (30+ designs).
These inground LED lighting fixtures will create a beautiful ambiance and enhance the environment. Different beam angles for LED inground lights can be combined with LEDs to create infinite architectural and interior lighting solutions.


Compare us with the best outdoor lighting manufacturer before buying the products
A free installation guide is provided with each product
Check out the fascinating designs, quality, and prices
Click the box below to download individual product ecatalog and check out other products of your choice
Some of the highlights are as follows:
Material Specifications: FB2VAR0619 | FB2VAS0619
Housing:

12# die-casting grey powder coated aluminum. T=60-80μm. Adhesion of ISO class 1/ASTM class 4B

Front Ring:

Hard chromeplated Staines steel SUS 316L#

Light Window:

Step tempered glass.T=8mm

Waterproof:

Molding shaped silicone seal

Glass pressure capacity:

Full area=2274Kgs

Cable Gland:

IP68 PG-9 PA66

Gasket:

Silicone seal

Lens:

Optical lens.efficiency≥85%

LED:

SMD5050 RGB 3in1 LED

LED Driver:

Constant Voltage Input,Constant Current Output

Operating Temperature:

-20˚C~40˚C

Power Cable:

H05RN-F 4X0.75mm2 L=0.5m

Mounting Sleeve:

PVC 057#

CCT:

RGB