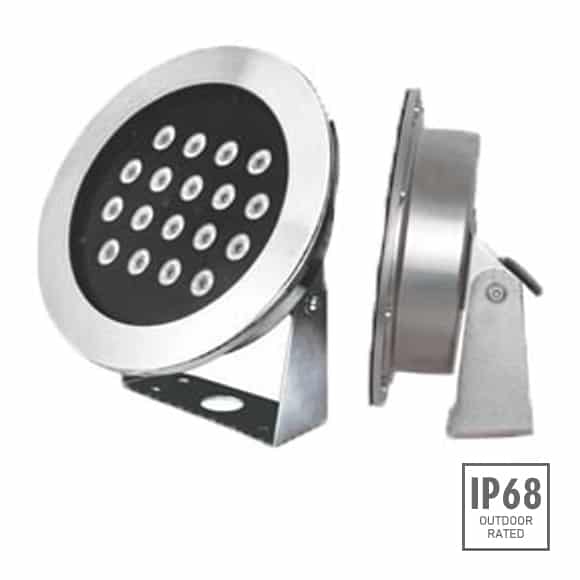 RGB Lights - B5FA1204
Underwater RGB Focus Light with 12 LEDs/fixture. 5012Kgs glass pressure capacity, SS cover & housing, 10MM step glass, SMD3535. These lights come with ingress protection of IP68. Competitively priced, high-quality products with wide range (40+ designs).
Underwater lights surface mounted for waterbody applications, to highlight a structure inside water. The fixtures are of high grade stainless steel 316 material, suitable for places near salt-water. The lifespan for the fixtures is above 50,000Hrs. With 24VDC the lumen output is high.


Compare us with the best manufacture before you buy our LED outdoor Lighting product
A free installation guide is provided with each product
Check out the fascinating designs, quality, and prices
Click each of the boxes below and download individual products of your choice
Some of the highlights are as follows:
Material Specifications: B5FA1204
Front Cover & Housing:

Hard Chromeplated Molding shaped stainless steel SUS 316L#

Light Window:

Step tempered glass.T=10mm

Lens:

Optical lens,efficiency≥85%

LED:

SMD3535 RGB 3 IN 1

Cable Gland:

IP68 PG-11 copper with nickel-coated

PCB:

Excellent heat conductivity aluminum, coefficient of heat conductivity≥2.0w/mk

LED Driver:

Constant Voltage Input,Constant Current Output RGB 3in1 LED = 3-circuit output

Glass pressure capacity:

Full area=5012Kgs

Application environment:

Temperature of water between -20ºC~40ºC less than 1 meter depth.

Built-in Overheat Sensor System:

Automatic Shutdown at 75°C

Gasket:

EPDM gasket

Power Cable:

H07RN-F 4X1.0mm2 L=3.0m

CCT:

RGB
| Model Number | Light Source | Lens | Lens Degree | Input Voltge | Operating Current(MA) | Consumption (W) | Lumance (LM) | IK |
| --- | --- | --- | --- | --- | --- | --- | --- | --- |
| B5FA1204 | 12x4W RGB 3in1 | B49 | 30° | 24V DC | 24V=2400 | 24V=57.6 | 1488 | 10 |


IP68 WATERPROOF CONNECTORS




RGB lighting for ponds are a great way to add color and light to any space. These versatile fixtures can be used to highlight walls, accentuate pathways, or simply change the ambience of an area. RGB outdoor wall washers are available in multiple sizes and color temperatures, so you can find the perfect fit for your project. With their stylish design and high quality construction, RGB LED lights are a great choice for any lighting designer or architect.
RGB LED Lights for linear facades, underwater & fountain lighting with decoders, DMX512 controllers for high-quality outdoor lighting. These lights are a great way to add some pizzazz to your landscape or facade lighting projects. With over 16 million hues of light available, you can really get creative with your lighting effects. RGB LED fixtures are also very reliable, thanks to their optical quality and fine finishes. And if you're worried about glare, you can always equip your fixture with an anti-glare filter.
Similar Products : Linear Facade Wall Washer
RGB lighting for ponds are a great way to highlight shrubs and plants in your landscape. These inground LED lighting fixtures create a beautiful ambiance and enhance the environment. Combining LED inground lights with different beam angles and LEDs can create infinite architectural lighting solutions. RGB outdoor lights are compatible with DMX512 controllers and can create amazing light patterns for high-quality outdoor lighting.
RGB LED lights are becoming increasingly popular for a variety of architectural lighting applications. They are available in a variety of wattages and shapes, and come in housing colors of sanded brown, matte black, silver, and anodized aluminum finish. Our RGB outdoor range of exterior fixtures come with quality certifications like ETL, RoHS, SAA, ISO9001. The durable, impact resistant construction helps these fixtures to withstand extreme weather conditions and they are rust & corrosion proof. RGB LED Spot Lights come with a heat radiation structure and adjustable beam direction.
RGB lighting for ponds provide best-in class optics, with a variety of beam angles to meet any need. Heavy-duty die-cast aluminum makes these fixtures corrosion resistant. Plus, they're fully compatible with advanced protocols like DMX512 and DALI. So why wait? Give your garden or lawn the perfect lighting for any private party with our RGB outdoor lights.
These versatile fixtures come with an overheat sensor to avoid overheating, and are applicable for a variety of outdoor lighting applications, including illuminating pool walls and highlighting the shape and texture of the pool. Plus, their color-changing ability and low voltage power consumption make them a must-have for your next underwater lighting project.