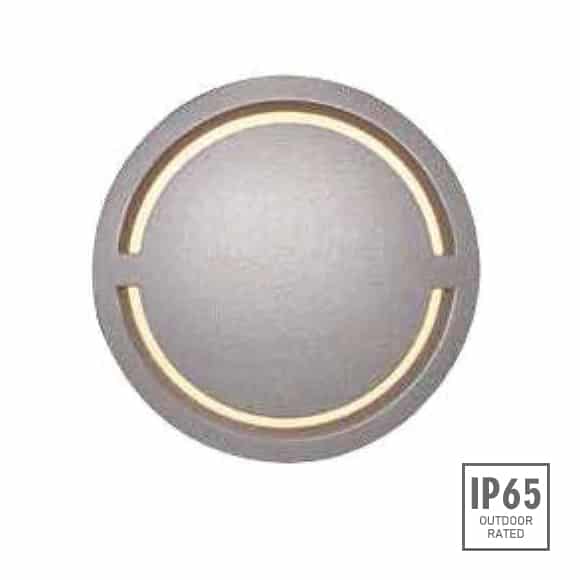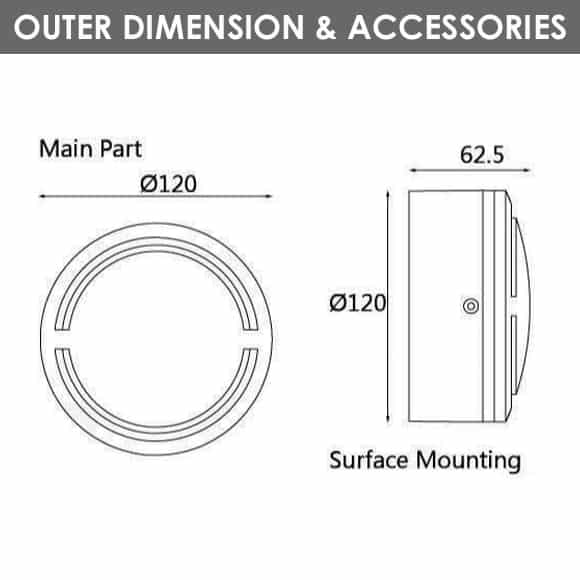 Outdoor Wall Lights - D7AL2832
Circular Landscape Wall Light with 130⁰ beam angle. Low wattage, multiple CCT, low lumens output, dark grey powder coating, IP65. Competitively priced, high-quality products with wide range (30+ designs). The fixture comes with powder coated colors of dark grey, silver resistant paint & sanded black.
LED outdoor wall light can be used by Lighting Designers & Architects to create fabulous nighttime aesthetics, sport, and other special social events for private gardens, public landscapes etc.


Compare us with the best manufacture before you buy our LED outdoor Lighting products
A free installation guide is provided with each product
Check out the fascinating designs, quality, and prices
Click the box below to download individual product ecatalog and check out other products of your choice
Some of the highlights are as follows:
Material Specifications: D7AL2832
Housing:

12# Die-casting dark grey powder coated aluminium T=60-80um. Adhesion of ISO class 1/ASTM class 4B

Light Window:

PC T=6mm

Gasket:

Tooling shaped seal

Driver:

Constant voltage input, Constant current output

Operating Temperature:

-20⁰C-40C⁰

Power Cable:

H05RN-F 3x1.0mm2 L=0.3m (High Voltage)

CCT:

2000K/3000K/6000K
| Model# | Light Source | Lens Degree | Input Voltage | Operating Current(MA) | Consumption (W) | Luminance(LM) |
| --- | --- | --- | --- | --- | --- | --- |
| D7AL2832 | 28x0.1W NICHIA | 130⁰ | 240V | 240V=14 | 240V=3 | 12 |
IP68 WATERPROOF CONNECTORS




Outdoor architectural lights for modern wall lighting that can change the ambience of any outdoor area. The position of the LED offers a soft and comfortable light effect with superior performances. Our  waterproof outdoor wall lights are particularly suitable for recessing into stone walls and stairs. They are luminaires which illuminate walkways and residential areas. These fixtures are equipped with high quality OSRAM LEDs with an LED lifespan of 50,000 burning hours.
Our waterproof outdoor wall lights are both stylish and functional and are perfect for deck step lighting, landscape lighting & illuminating your garden or patio, and they come in a variety of styles to suit any décor. Whether you're looking for recessed wall lights or surface-mounted wall lamps, we have a light to fit your needs. We focus on high quality with best prices & 3 year warranty. Our fixtures can save energy consumption and also make any outdoor area look beautiful.
Similar products: Outdoor LED Wall Lights
As the days get shorter and the nights get longer, it's important to make sure your home is well-lit. Outdoor led wall lights are a great way to add light to your garden or patio. Outdoor architectural lighting also accentuate features of your home, such as stairs or doorways. These IP65 wall lights are applicable in high-end lighting projects.
Outdoor architectural lighting deck step lighting fixtures are available in powder coated grey body with high glass pressure capacity. These exterior wall lights come with an option of narrow beam angle which will enhance the architectural characteristics of any project. Our outdoor wall lamp fixtures are also available with in-built drivers for easy installation. One can choose from a range of 40+ designs designed for various architectural wall lighting projects. High quality mounting sleeves and accessories make the installation easy.
Outdoor architectural lighting luminaires offer enhanced energy efficient functionality and optimized light output to adequately illuminate stairs and walkways with little or no glare. Plus, they blend into any architecture. So whether you're lighting up a half landing or stair corner, you can be sure your space will look chic and polished. Outdoor patio wall lights fixtures can also be used as brick lights and for various landscape lighting ideas.