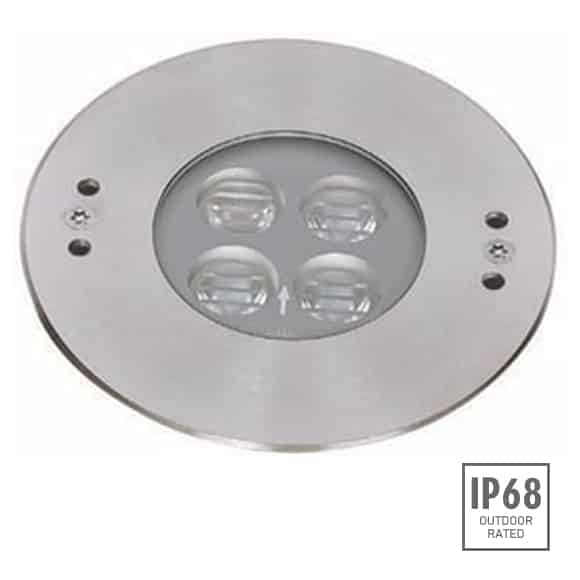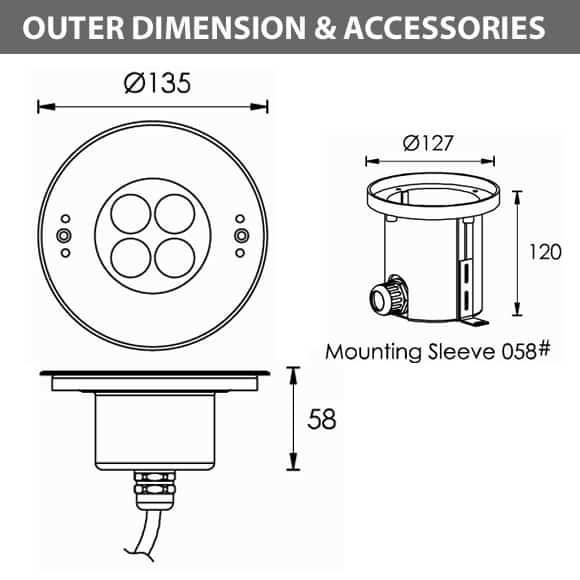 Swimming Pool Lights - C4XC0457
High-grade swimming pool lights for underwater application projects worldwide. The entire swimming pool lights are made of SS316 material to make it rust or corrosion free. High powered LED chips are used as light source in these fixtures. Stainless steel housing with 8mm step tempered glass. Standard color temperature and beam angles for swimming pool lights are 2000K, 3000K and 6000K with asymmetrical lens of 45º*35º. Wattages start 2W upwards to 45W.
These lights come with an ingress protection of IP68. Offer Triac, PWM, 1-10V & Dali dimming options. Swimming pool lights can also be provided with RGB/W color changing LEDs with DMX control systems. Lighting Designers & Architects use these fixtures to create fabulous nighttime aesthetics, illumination of pool walls, walkways, floor etc.


Compare us with the best manufacturer before you buy our outdoor LED lighting
A free installation guide is provided with each product
Check out the fascinating designs, quality, and prices
Click the box below to download individual product ecatalog and check out other products of your choice
Some of the highlights are as follows:
Material Specifications: C4XC0457
Front cover & Housing:

Hard Chromeplated Molding Shaped Stainless Steel SUS 316#

Light Window:

Step Tempered glass. T=8mm

Gasket:

Silicon Gasket

LED Driver:

Constant Voltage Input, Constant Current Output

PCB:

Excellent heat conductivity aluminium, coefficientof heat Conductivity ≥2.0w/mk

Power Cable:

24V : H07RN-F 2X1.0mm2 L=3.0m

Application Environment:

Temperature of water between -20⁰C~40⁰C less than 1 Mtr Depth

CCT:

2000K/3000K/6000K

Dimmable Support:

Triac PWM 1-10V Dali
| Model# | Light Source | LENS | Lens Degree | Input Voltage | Operating Current(MA) | Consumption (W) | Lumance (LM) | IK |
| --- | --- | --- | --- | --- | --- | --- | --- | --- |
| C4XC0457 | 4x2W | C8 | 45⁰*35⁰ | 24V DC | 24V=371 | 24V=8.9 | Cool White=511 | Warm White=450 | 08 |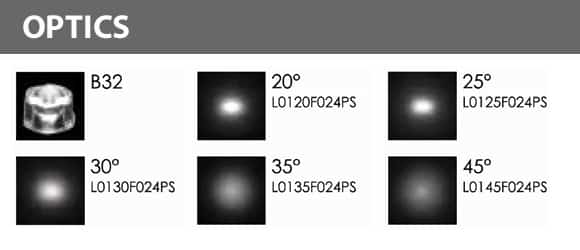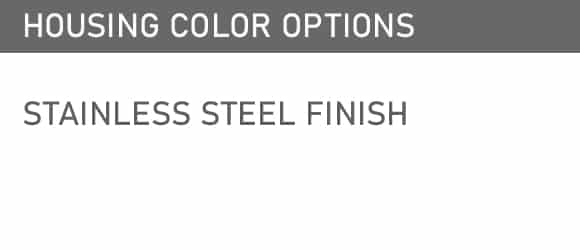 IP68 WATERPROOF CONNECTORS




Wall Recessed Pool Light reduce the maintenance costs and also have a longer lifespan. These inground pool lights can also provide greater safety for folks in and out of the swimming pool. Outdoor pool lights are also important as they can add a visual impact to the pool landscape. One can achieve multi-color ambient light with the help of RGB color changing LEDs. If you're looking for a way to add some color and light to your underwater space, RGB/W LED pool lights are a great option. With their stylish design and high quality construction, they're a great choice for any lighting designer or architect.
These swimming pool light fittings are available in a variety of wattages and beam angles, and can even be controlled via DMX systems. In addition to creating an amazing mood, pool lighting also makes the area much safer. So if you're looking for a way to take your pool game up a notch, consider investing in some LED pool lights. Surface mounted lighting is one of the most popular types of pool lighting. It is installed on the side of the pool and gives off a lot of light. This makes it ideal for highlighting pool features. Water feature lights are also easy to install in concrete, fibreglass and vinyl pools.
Similar Products : Linear Wall Washer
This Wall Recessed Pool Light , is the beautiful choice for lighting up pools. These fixtures are available with tripod or surface mounting accessories to achieve the desired lighting effect. LED underwater pool light not only adds a touch of ambiance, but also highlights any special features like fountains and waterfalls.
In addition to pool lights, you may also want to consider installing some landscape lighting. This will help make sure getting to the pool is just as safe as getting into it. If you're looking for a light that will last, our pool lights for above ground pools are a perfect solution. They have an LED lifespan of 50,000 hours. You'll be able to enjoy your lights around the pool elegantly lit for many evenings to come without worrying about the cost of electricity.
Swimming pool lights are a complete necessity when it comes to any pool installation. From safety, to practicality, to pure enjoyment, they are sure to make any backyard swim a memorable and long-lasting experience. All the lights for pools are made of  premium components and we carry only the highest quality products so that you can rest assured your investment will last. With our wide selection of swimming pool lights, you're sure to find the perfect fit for your needs.