OUTDOOR LIGHTING FACADE WALL WASHER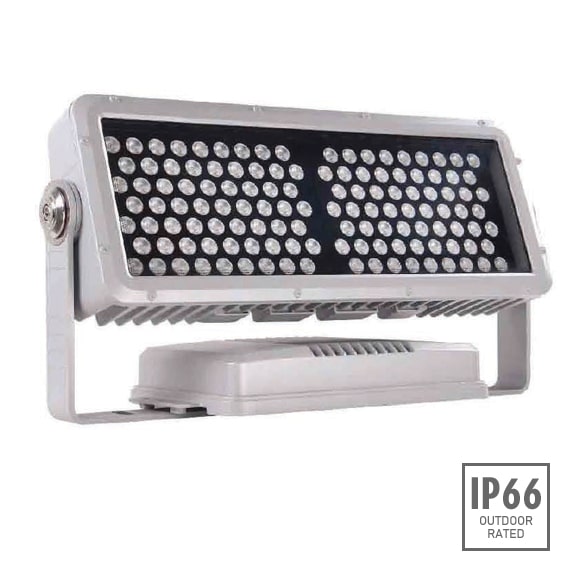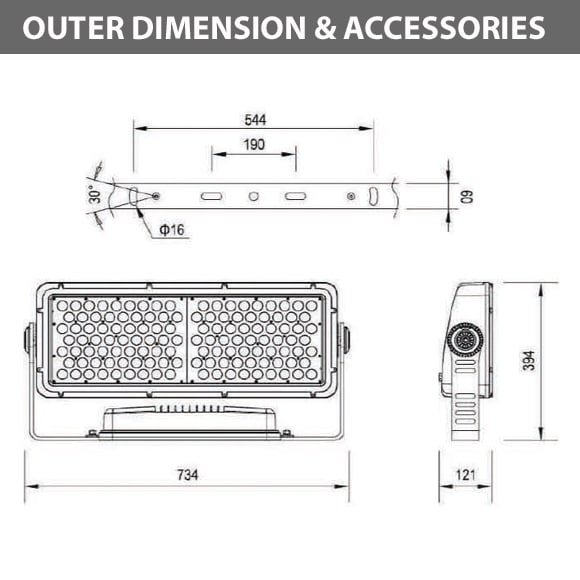 Facade Wall Washer - JRF5 - 126
Facade Wall Washer with CC/DMX512 control & 286W power. Aluminium alloy, 126 LEDs, 50/60 Hz frequency, single and RGBW color. These fixtures come with ingress protection of IP66 and the LED lifetime is 70000hrs.
Facade wall washer lights can be used by lighting designers & architects to create fabulous nighttime aesthetics, facade lighting & highlight columns.


Compare us with the best manufacturer before you buy our LED outdoor lighting products
A free installation guide is provided with each product
Check out the fascinating designs, quality, and prices
Click the box below to download individual product ecatalog and check out other products of your choice
Some of the highlights are as follows:
Material Specifications: JRF5 - 126
LED Quantity:

126 pcs

Freequency Range:

50/60 Hz

Control Mode:

CC/DMX512

Temperature of Working Condition:

-30⁰~50⁰C

Humidity of Working Condition:

10-90%

LED Lifetime:

70000h

Protection Grade:

IP66
| Model# | Wattage | Input Voltage | Beam Angle | Color | Lumance |
| --- | --- | --- | --- | --- | --- |
| JRF5-126 | 286W | 48V DC | AC100-277V | 10⁰|25⁰|40⁰|60⁰ | Single | RGBW | 19417 | 11095lm |


IP68 WATERPROOF CONNECTORS




RGBW building facade for arch lighting, exterior facade lighting & architectural lighting design with CC/DMX512 controls. These lights are becoming increasingly popular in many different settings, from hotels and galleries to museums and more. Not only do they provide additional light, but they can also create a warm and inviting atmosphere.
These lights are perfect for accenting architectural features or adding a touch of drama to any space. And with so many different styles and sizes available, it's easy to find the perfect fit for your needs. There are many applications for wall washers. This light fixture emits a wide and uniform brightness. The primary goal is to draw attention to the wall – in whatever form or design it may come. RGB facade wall washers can add visual impact to any wall structure or architectural lighting design. 
Similar Products : RGB Lights
RGBW building facade are a great way to accentuate the specific shape of a structure. They can also enhance the space, color and texture of a building. This lighting technique is commonly used by interior designers and architects.
With various symmetrical and asymmetrical beam angles available, you can create any look you want. Plus, with the option of 48-252 LEDs, you can really make your mark. And with a lighting distance of up to 200 metres, you'll be sure to light up even the darkest corners.
RGBW building facade can give high lumens output and can be used in stadiums for concerts where high wattage lights are required. With an LED lifespan of 70,000 hours, these lights are sure to run for a long time and create beautiful lighting effects for various facade purposes. These facade lighting fixtures are also a great way to illuminate curved architecture or unique unusual structures.
Due to the long service life of these lights and intelligent control, LED facade wall washers are best for lighting of some large buildings, and some users also use such colorful and artistic lighting in order to increase the effect of attractions at night. These high power wall washers come with CC/DMX512 control modes.