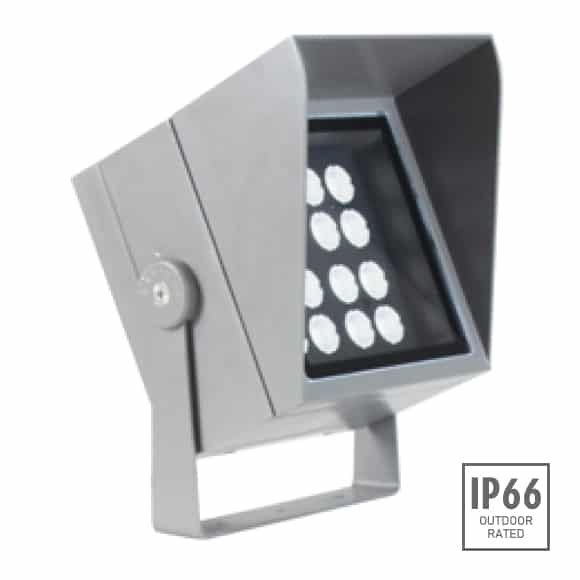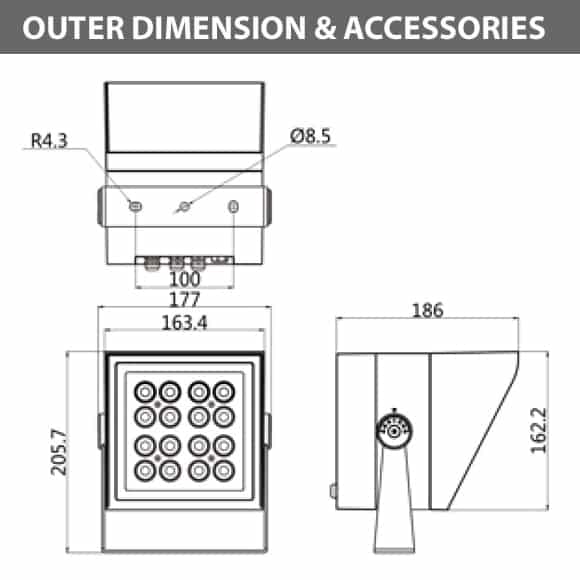 High Power Outdoor LED Focus Light - JRF4-M-H
Adjustable LED projector light with 16 LEDs/fixture, IP66 & IK08 rating. 38W-85W power, single and RGB color, multiple beam angles. Competitive price, high-quality products with wide range & extensive product depth.
Outdoor LED Focus light is one of the majorly used types of Outdoor lighting fixtures & can be used by Lighting Designers & Architects to create fabulous nighttime aesthetics, security, sport, private gardens, public landscapes, building facade, stage lighting.


Compare us with the best manufacturer before buying our LED outdoor lighting products
A free installation guide is provided with each product
Check out the fascinating designs, quality, and prices
Click the box below to download individual product ecatalog and check out other products of your choice
Some of the highlights are as follows:
Material Specifications: JRF4-M-H
LED Quantity:

16 pcs

Frequency Range:

50/60 Hz

Control Mode:

ON/OFF/DMX512

CRI:

>80

Temperature of Working Condition:

-35⁰~50⁰C

Humidity of Working Condition:

10-90%

LED Lifetime:

70000h

Protection Grade & IK:

IP66 & IK08
| Model# | Wattage | Input Voltage | Beam Angle | Color | Lumance |
| --- | --- | --- | --- | --- | --- |
| JRF4-M-30H | 27W | 24V DC | AC100-277V | 10⁰|15⁰|25⁰|30⁰|50⁰|10⁰x35⁰ | 4000K | 2128lm |
| JRF4-M-20H | 18W | 24V DC | AC100-277V | 10⁰|15⁰|25⁰|30⁰|50⁰|10⁰x35⁰ | 4000K | 1520lm |
| JRF4-M-40H-C | 40W | 24V DC | AC100-277V | 10⁰|15⁰|25⁰|30⁰|50⁰|10⁰x35⁰ | RGBW | 1530lm |
| JRF4-M-30-H-C | 30W | 24V DC | AC100-277V | 10⁰|15⁰|25⁰|30⁰|50⁰|10⁰x35⁰ | RGBW | 1247lm |
| JRF4-M-20H-C | 20W | 24V DC | AC100-277V | 10⁰|15⁰|25⁰|30⁰|50⁰|10⁰x35⁰ | RGBW | 902lm |
| JRF4-M-60H | 56W | 24V DC | AC100-277V | 10⁰|15⁰|25⁰|30⁰|50⁰|10⁰x35⁰ | 4000K | 3700lm |
| JRF4-M-40H | 38W | 24V DC | AC100-277V | 10⁰|15⁰|25⁰|30⁰|50⁰|10⁰x35⁰ | 4000K | 2686lm |


IP68 WATERPROOF CONNECTORS




Adjustable outdoor spotlights for architectural lighting solution, RGB architectural facade, exterior lighting ideas with DMX system. Outdoor focus light fixtures are available in RGBW colors which can be used with DMX controls to create beautiful light patterns. Spotlights can be used to highlight a building facade lighting . Mount them at the base of a wall, or aim them at porch columns. You can also use them for downlighting on the side of your house or under eaves.
Adjustable outdoor spotlights are a versatile and energy-efficient way to highlight any object, indoors or out. Whether you're accenting a fountain or lighting up a flag, the right intensity of light can make all the difference. Not sure how much light you need? A good rule of thumb is to think about the size of the object you're trying to illuminate. Smaller objects will require lower lumen outputs, while larger objects will need more power. With LED spotlights, it's easy to get just the right amount of light for any project.
Similar Products : Outdoor Wall Lights
These lights can be used to create interesting shadows and outlines of objects, adding a unique element to any room. Adjustable outdoor spotlights lights can be placed inside or outside of your garden beds to highlight specific plants or areas. They also work well for illuminating facades and architectural details on buildings.
If you're looking for exterior lighting ideas for your home, LED spotlights are a great option. You can choose an intensity that's right for the object you're highlighting, and they come in a variety of sizes to fit your needs. Whether you're lighting up a fountain or a statue, these high power spotlights will do the job perfectly.
If you're looking for Adjustable outdoor spotlights that can create interesting effects, then you'll want to check out our selection of high power focus lights. These  types of facade lighting are perfect for lighting designers and architects who are looking to add a unique touch to their projects.