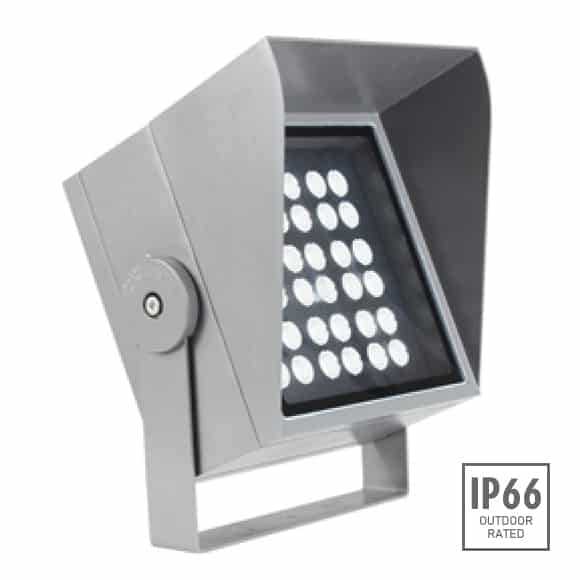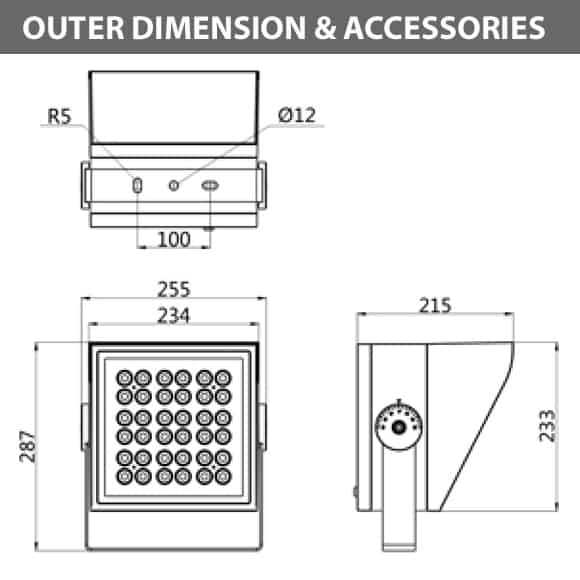 High Power Outdoor LED Focus Light - JRF4-L-H
High Power Outdoor LED Landscape Lighting for Sydney lighting projects. ON/OFF/DMX512 controls, 36 LEDs/fixture & multiple wattage options. Competitive price, high-quality with wide range & extensive product depth.
Outdoor LED Focus light is one of the majorly used types of Outdoor lighting fixtures & can be used by Lighting Designers & Architects to create fabulous nighttime aesthetics, security, sport, private gardens, public landscapes, building facade, stage lighting.


Compare us with the best manufacturer before buying our LED outdoor lighting products
A free installation guide is provided with each product
Check out the fascinating designs, quality, and prices
Click the box below to download individual product ecatalog and check out other products of your choice
Some of the highlights are as follows:
Material Specifications: JRF4-L-H
LED Quantity:

36 pcs

Frequency Range:

50/60 Hz

Control Mode:

ON/OFF/DMX512

CRI:

>80

Temperature of Working Condition:

-35⁰~50⁰C

Humidity of Working Condition:

10-90%

LED Lifetime:

70000h

Protection Grade & IK:

IP66 & IK08
| Model# | Wattage | Input Voltage | Beam Angle | Color | Lumance |
| --- | --- | --- | --- | --- | --- |
| JRF4-L-120H | 120W | 24V DC | AC100-277V | 10⁰|15⁰|25⁰|30⁰|50⁰|10⁰x35⁰ | 4000K | 8324lm |
| JRF4-L-80H | 80W | 24V DC | AC100-277V | 10⁰|15⁰|25⁰|30⁰|50⁰|10⁰x35⁰ | 4000K | 6044lm |
| JRF4-L-60H | 60W | 24V DC | AC100-277V | 10⁰|15⁰|25⁰|30⁰|50⁰|10⁰x35⁰ | 4000K | 4788lm |
| JRF4-L-80H-C | 85W | 24V DC | AC100-277V | 10⁰|15⁰|25⁰|30⁰|50⁰|10⁰x35⁰ | RGBW | 3440lm |
| JRF4-L-60H-C | 65W | 24V DC | AC100-277V | 10⁰|15⁰|25⁰|30⁰|50⁰|10⁰x35⁰ | RGBW | 2804lm |


IP68 WATERPROOF CONNECTORS




Outdoor spotlights for yard
Outdoor spotlights for yard can be used to highlight single plants or shrubs, or they can be mounted outside of the garden to illuminate the entire area. Not only will your garden look great at night, but you'll also be able to show off your landscape during the day. These lights are applicable to exterior facades and for various architectural lighting solution.
Outdoor spotlights for yard are an essential part of any architectural design. They can help create shapes with shadows and attract focus on individual elements. These fixtures bring life to any outdoor area. However, it is important to choose the right fixture for the job. High power focus lights are ideal for creating dramatic effects. They come in a variety of wattages, so you can find the perfect one for your needs. Plus, they're ideal for lighting up large spaces. Another key point is the wattage options. One can select from a wide range of wattages to suit their project needs.
Similar Products : RGBW Lights
A lighting designer loves to add outdoor lighting to create continuity between the home and the yard. It's a great way to bridge the gap between two important spaces in your home, where many celebrations and memories are experienced. High power focus lights can achieve this goal. These spotlights are perfect for creating a high-end look that will impress your guests.
Spot light for yard are perfect for creating a feeling of continuity between your home and your yard. Not only do they look great, but they also provide plenty of light to help you enjoy those special moments outdoors. These fixtures have a narrow field, and are therefore better for shorter trees. Placing 2 or 3 spotlights can enhance the trees and also highlight the surrounding areas. 
Outdoor spotlights for yard, stadium & bridge lighting. Available in multiple wattage options with IP66 & IK08 rating and DMX system. These fixtures are available in ON/OFF/DMX512 control mode. High quality LED components with IP66 protection grade and IK08 rating. Wattages as low as 5W can be provided with a maximum wattage of 120W depending on the lighting requirement.