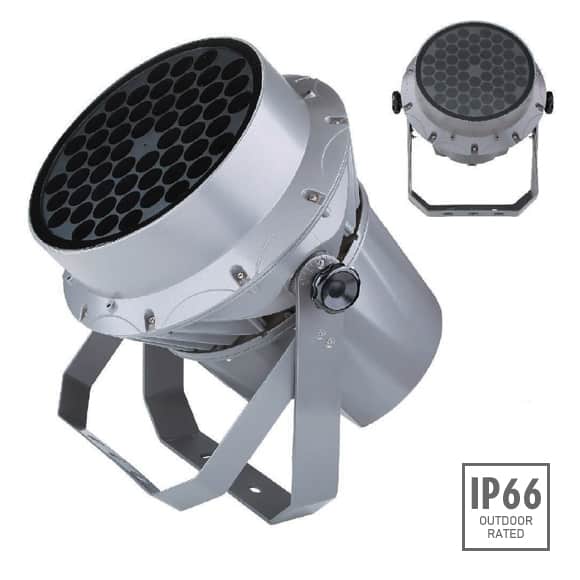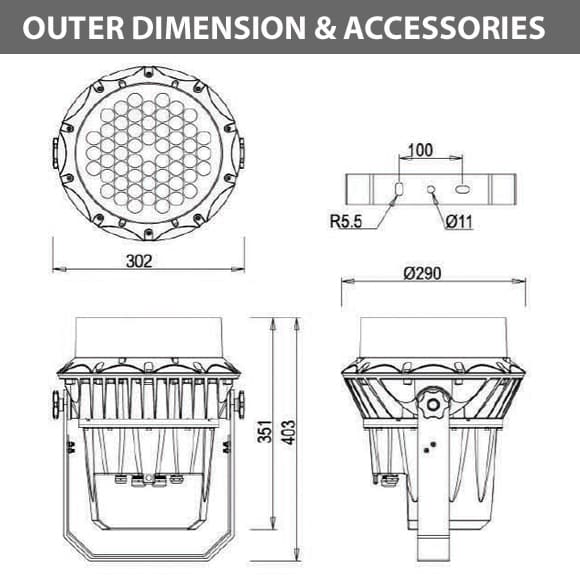 High-Power Outdoor LED Focus Light - JRF3 - 54D
High-grade projector lights for facade & landscape lighting. 48V DC, beam angle of 6⁰|15⁰x70⁰, powder coated housing & shock resistant. These lights come in various wattages & has an LED lifetime of 70000 hours. These lights have an ingress protection of IP66.
Outdoor LED focus light is one of the majorly used types of outdoor lighting fixtures used by lighting designers & architects to create fabulous nighttime aesthetics, accessibility, security, recreation, sport, and other special social events for private gardens, public landscapes and LED outdoor lighting.


Compare us with the best manufacturer before buying our LED outdoor lighting products
A free installation guide is provided with each product
Check out the fascinating designs, quality, and prices
Click the box below to download individual product ecatalog and check out other products of your choice
Some of the highlights are as follows:
Material Specifications: JRF3-54D
LED Quantity:

54 pcs

Frequency Range:

50/60 Hz

Control Mode:

CC/DMX512

Installation Pipe Diameter:

Ø11x100mm

Temperature of Working Condition:

-30⁰~50⁰C

Humidity of Working Condition:

10-90%

LED Lifetime:

70000h

Protection Grade:

IP66
| Model# | Wattage | Input Voltage | Beam Angle | Color | Lumance |
| --- | --- | --- | --- | --- | --- |
| JRF3-54D | 85W | 48V DC | AC100-277V | 6⁰|15⁰x70⁰ | Single | 5753lm |
| JRF3-54D | 128W | 48V DC | AC100-277V | 6⁰|15⁰x70⁰ | RGBW | 3287lm |
| JRF3-54D*2.2W | 129W | 48V DC | AC100-277V | 6⁰|15⁰x70⁰ | Single | 6528lm |


IP68 WATERPROOF CONNECTORS




LED landscape floodlights for sports floodlighting, security lights, stadium flood lights and RGBW flood lights with DMX master controllers. There are many different types of outdoor LED flood lights on the market, each with its own unique set of features and benefits. Floodlights are an important part of any lighting design. They provide a broad, intense light that can enhance any living environment. With the longer, darker nights of winter, it is even more important to have proper lighting in your outdoor spaces.
LED landscape floodlights are strong, durable and can withstand extreme temperatures. They have LED lifetime of 70,000 hours and come with IP66 ingress protection. These are white powder coated fixtures which are available in narrow to wide beam angles of 10⁰|25⁰|35⁰|60⁰.  Wattages for these fixtures range from 55W to a maximum of  290W depending on the color temperature. Standard CCT of 3000K/4000K/5000K and 6000K is available with an option of RGBW. 50W LED floodlight is applicable for illuminating small areas which require moderate lighting.
Similar Products : Outdoor Wall Lights
These versatile sports floodlighting fixtures can be adjusted to create the desired distribution angle and brightness, making them ideal for a variety of settings. Plus, with multiple flood lights, you can achieve an even more dramatic lighting effect. These fixtures are applicable as security lights and park flood lights.
With the help of dimming drivers and DMX master controllers, you can create different effects by adjusting the color and blinking mode. This is perfect for setting the mood at parties or other events. Plus, LED flood lights are also very energy-efficient, so you'll save money in the long run. Other applications of these fixtures can be for garden flood lights.
LED landscape floodlights for architectural facade lighting with ON/OFF/DMX512 Controller. For use in buildings, ports & construction sites. Outdoor LED flood lights can be used by lighting designers & architects for façade lighting, buildings, ports & construction sites. Major applications for these fixtures can be in landscape lighting, stage lighting & to illuminate playing fields at night.
These are high valued items for lighting designers & architects. These architectural outdoor lights not just add beauty and elegance to building facades and landscape but are also a critical element of a city landscape. High grade components with high powered LEDs and drivers for high durability. ON/OFF or DMX master controllers, symmetrical lens & IP66 rating for use in stadiums and stage lighting.