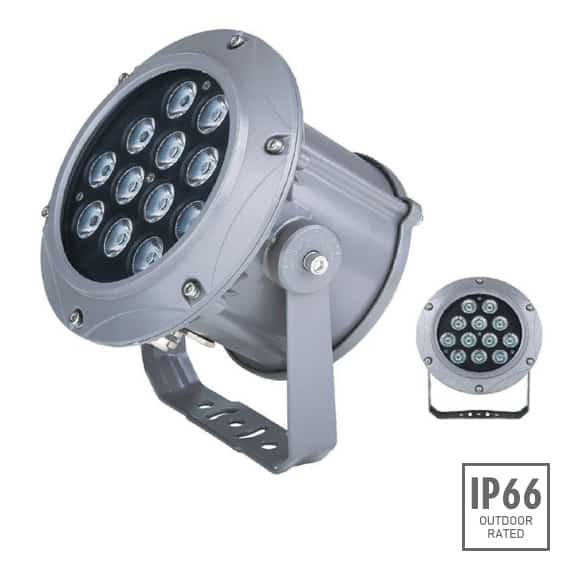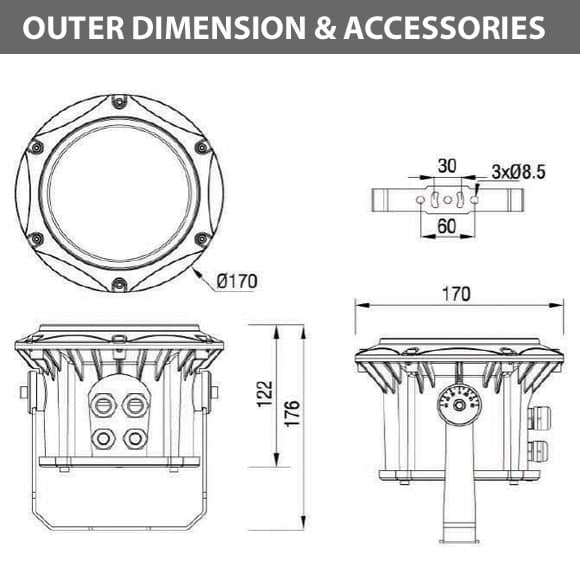 High-Power Outdoor LED Focus Light - JRF3-12
IP66 rated projector lights with tempered glass cover & visor. IP66, adjustable beam, RoHS compliant, grey color body, RGB/single color. These lights have LED lifetime of 70000 hours and comes with IP66 rating.
Outdoor LED focus light is one of the majorly used types of outdoor lighting fixtures used by lighting designers & architects to create fabulous nighttime aesthetics, accessibility, security, recreation, sport, and other special social events for private gardens, public landscapes and LED outdoor lighting.


Compare us with the best manufacturer before buying our LED outdoor lighting products
A free installation guide is provided with each product
Check out the fascinating designs, quality, and prices
Click the box below to download individual product ecatalog and check out other products of your choice
Some of the highlights are as follows:
Material Specifications: JRF3-12
LED Quantity:

12 pcs

Frequency Range:

50/60 Hz

Control Mode:

CC/DMX512

Installation Pipe Diameter:

Ø8.5x60mm

Temperature of Working Condition:

-30⁰~50⁰C

Humidity of Working Condition:

10-90%

LED Lifetime:

70000h

Protection Grade:

IP66
| Model# | Wattage | Input Voltage | Beam Angle | Color | Lumance |
| --- | --- | --- | --- | --- | --- |
| JRF3-12 | 15.6W | 48V DC | AC100-277V | 10⁰|25⁰|40⁰|60⁰ | Single | 1150lm |
| JRF3-12 | 16.2W | 48V DC | AC100-277V | 10⁰|25⁰|40⁰|60⁰ | RGB | 547lm |
| JRF3-12*2.2W | 30.8W | 48V DC | AC100-277V | 10⁰|25⁰|40⁰|60⁰ | Single | 1816lm |
| JRF3-12*2.2W | 32W | 48V DC | AC100-277V | 10⁰|25⁰|40⁰|60⁰ | RGB | 865lm |


IP68 WATERPROOF CONNECTORS




IP66 rated projector lights for sports floodlighting, security lights, stadium flood lights and RGBW flood lights with DMX master controllers. There are many different types of outdoor LED flood lights on the market, each with its own unique set of features and benefits. Floodlights are an important part of any lighting design. They provide a broad, intense light that can enhance any living environment. With the longer, darker nights of winter, it is even more important to have proper lighting in your outdoor spaces.
Flood security lights are an excellent option for illuminating large indoor or outdoor areas. They use less energy than traditional halogen floodlights and can produce greater luminosity. So if you're looking for an effective and efficient lighting solution, LED floodlights are the way to go.
Similar Products : RGB Lights
IP66 rated projector lights are a great option for outdoor lighting, and can be used for a variety of purposes. Whether you're looking to add some security lighting, illuminate a sign, or just light up a large area, stadium flood lights are a versatile and energy-efficient option. With so many different types and styles of LED flood lights available, it's easy to find one that fits your needs. 
For parties and other gatherings that run late into the night, outdoor lighting is a must. But bright lights can also be helpful when you come home late at night or in case of an emergency. LED flood lights are a great option for both scenarios. Not only do they provide excellent energy-saving, high-quality lighting performance, but they also have a long lifespan. So if you're looking for reliable and durable outdoor lighting, LED flood lights are a great choice.
IP66 rated projector lights are strong, durable and can withstand extreme temperatures. They have LED lifetime of 70,000 hours and come with IP66 ingress protection. These are white powder coated fixtures which are available in narrow to wide beam angles of 10⁰|25⁰|35⁰|60⁰.  Wattages for these fixtures range from 55W to a maximum of  290W depending on the color temperature. Standard CCT of 3000K/4000K/5000K and 6000K is available with an option of RGBW. 50W LED floodlight is applicable for illuminating small areas which require moderate lighting.