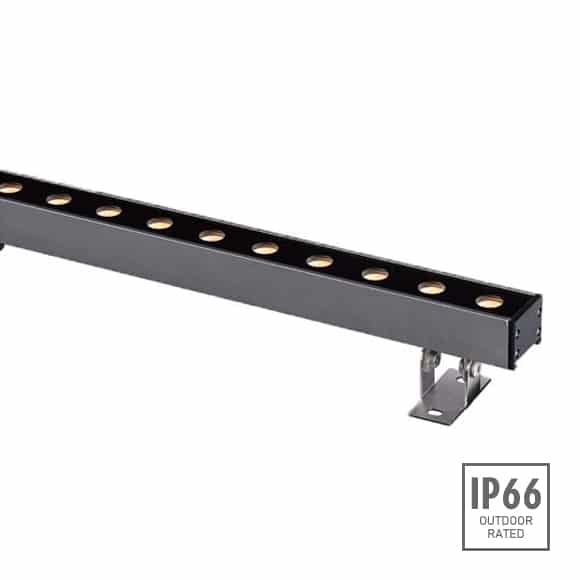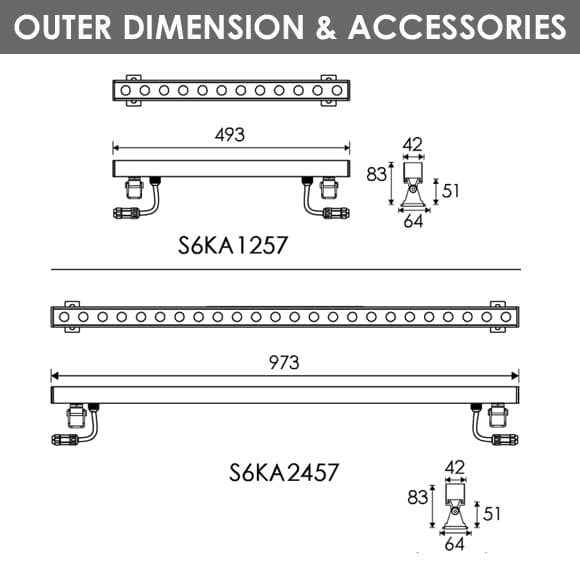 Wall Washer - S6KA1257 | S6KA2457
Wall washer are slim lights with different wattages, beam angles and color temperatures. Wattage start from 6W to maximum of 48W with beam angle of 10⁰*30⁰. Body material used is aluminium die-cast in powder coated colors of sanded grey, black and silver. Adjustable clamps and accessories are SS316 to protect the fixture from corrosion.
Color temperatures available are 2000K, 3000K and 6000K. RGB and RGBW can also be provided along with DMX controls. Stunning designs with IP66 rating, Symmetric & Asymmetric lens are options in wall washer lights. Architects and lighting designers use wall washer fixtures for various high end outdoor lighting projects.


Compare us with the best manufacture before you buy our outdoor LED Lighting
A free installation guide is provided with each product
Check out the fascinating designs, quality, and prices
Click the box below to download individual product ecatalog and check out other products of your choice
Some of the highlights are as follows:
Material Specifications: S6KA1257 | S6KA2457
Housing:

Extruded aluminium anodized finishing or Powder coated

Lens:

Optical lens, efficiency≥85%

Light Window:

Tempered glass T=4mm

Gasket:

Glass and housing are silicon sealed

LED:

OSRAM

Operating Temperature:

-20⁰C-40C⁰

Bracket:

Hard Chrome plated stainless steel SUS 304#

Power Cable:

H05RN-F 2X1.0mm2 L=0.25m (low voltage)

CCT:

2000K/3000K/6000K

Dimmable Support:

Triac PWM 1-10V Dali
| Model# | Light Source | LENS | Lens Degree | Length(MM) | Input Voltage | Operating Current(MA) | Consumption (W) | Lumance (LM) | IK |
| --- | --- | --- | --- | --- | --- | --- | --- | --- | --- |
| S6KA1257 | 12x1.5W | B27 | 10⁰x30⁰ | 493 | 24V DC | 1000 | 24 | Cool White = 1943 | Warm White = 1494 | 06 |
| S6KA2457 | 24x1.5W | B27 | 10⁰x30⁰ | 973 | 24V DC | 1985 | 47 | Cool White = 3878 | Warm White = 2939 | 06 |

IP68 WATERPROOF CONNECTORS




Slim Linear Wall Washer for lighting facades of skyscrapers, historic monuments, government building, railway station, airports and other city skylines with RGB/RGBW/mono color. Wall washing illuminates a vertical surface with uniform brightness and draws attention to the outdoor wall, and can be used to accentuate an entrance, fireplace, or artwork.
There are a few things to keep in mind if you're considering using outdoor wall washers. First, you'll need to decide what type of fixture you want. There are two main types of wall washers: linear and grazing. Linear wall washers are designed to evenly illuminate a large area, while grazing fixtures create more of a "spotlight" effect. Wall washers evenly light up large areas and enhance the architecture.
The most popular reason to use an Slim Linear Wall Washer is to illuminate an architectural facade – typically lighting facades of skyscrapers & city skylines. These fixtures are available in RGB/RGBW/mono color and are often used to light up historic monument, government building and railway station.
Check our similar products : Recessed Wooden Floor Lights
In Slim Linear Wall Washer, If you're looking for a way to add some extra light and interest to your home's exterior, consider outdoor wall washers. These fixtures are designed to evenly illuminate large vertical surfaces, adding a touch of drama and helping to highlight the architecture of your home.
IP65, IP66, IP67 & IP68 outdoor rated, mono or multi-color LED for lighting projects. Wattages start from 6W to a maximum of 120W. Standard beam angles offered are narrow to wide beams from 9, 12, 15, 20, 24, 40, 60. wall wash asymmetric beam angle of 10*30 and 15*32 can be provided as well.