OUTDOOR LED BOLLARD LIGHT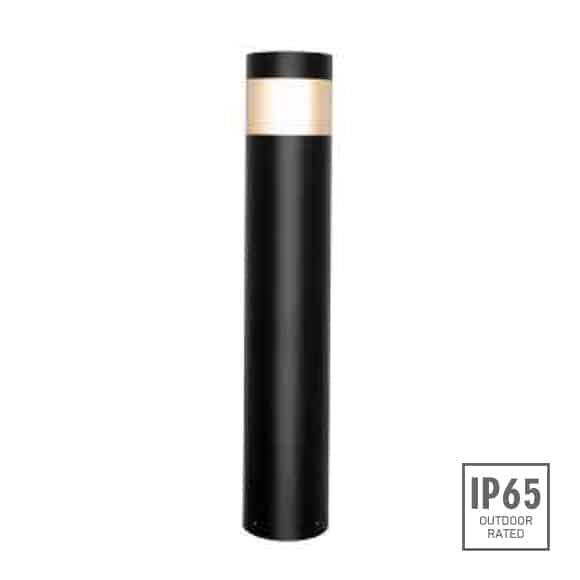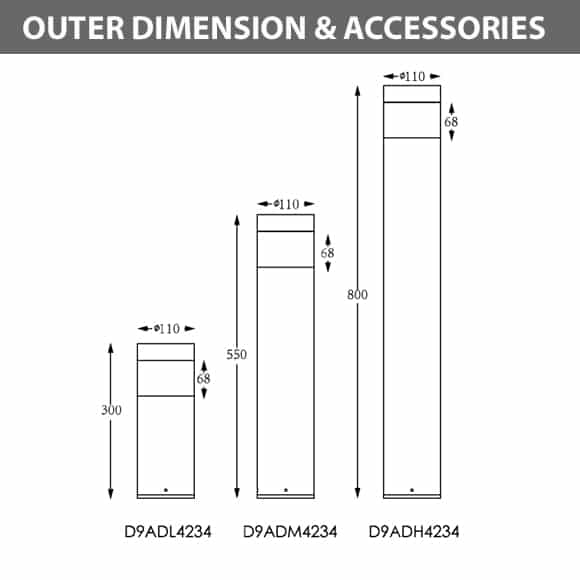 LED Bollard Light - D9ADL4234 | D9ADM4234 | D9ADH4234
Outdoor Bollard Lights with PMMA diffuser & SMD3030 LED. IP65 rating, die-cast aluminium body, BIS certification, 3000K & 6000K CCT. Available in powder coated colors of sanded black, light sanded grey and dark grey. Triac, PWM, 1-10V & Dali dimming available.
Bollard lights are a type of architectural outdoor lighting fixture which gives off light from the top or the sides. It is used to illuminate steps, walkways or pathways. Available in various heights and designs. The uses of this light can be in playgrounds, roadways, malls, parks, parking spots and safety. Bollards are also applicable for security purpose and helps in managing traffic.


Compare us with the best manufacturer before you buy our LED outdoor Lighting products
A free installation guide is provided with each product
Check out the fascinating designs, quality, and prices
Click the box below to download individual product ecatalog and check out other products of your choice
Some of the highlights are as follows:
Material Specifications: D9ADL4234 | D9ADM4234 | D9ADH4234
Front cover & Housing:

12# Die-casting powder coated alumimium T=60-80μm. Adhesion of ISO class 1/ASTM class 4B, Hard Crome plated stainless Steel SUS 316#

Light Window:

PMMA

LED:

SMD3030

LED Driver:

Constant Voltage Input, Constant Current Output

Power Cable:

H05RN-F 3X1.0mm2 L=0.3m H05RN-F 3X1.0mm2 L=0.5m H05RN-F 3X1.0mm2 L=1.0m

Operating Temperature :

-20⁰C~40⁰C

CCT:

3000K/6000K

Base:

Standard Base / Flange Base

Dimmable Support:

Triac PWM 1-10V Dali
| Model# | Light Source | Input Voltage | Operating Current(MA) | Consumption (W) | Lumance (LM) |
| --- | --- | --- | --- | --- | --- |
| D9ADL4234 | 42x0.2W | 120/240V | 120=76 | 240=41 | 120V=8.6 | 240V=9 | Warm White=586 |
| D9ADM4234 | 42x0.2W | 120/240V | 120=76 | 240=41 | 120V=8.6 | 240V=9 | Warm White=586 |
| D9ADH4234 | 42x0.2W | 120/240V | 120=76 | 240=41 | 120V=8.6 | 240V=9 | Warm White=586 |
IP68 WATERPROOF CONNECTORS




Decorative bollard lights for landscape path lighting, driveway lights, pathway lights and walkway lights with SMD3535 LEDs. These pathway lights or driveway lights are typically round or square post style fixtures two to four feet high that project light horizontally and/or downward to provide necessary lighting for walkways. These luminaires often provide a very evenly distributed light pattern. Bollard light is also perfect for bringing a relaxing mood and highlighting plants due to the soft lights.
Decorative bollard lights fixtures are applicable for pathway lights/ patio lights/ driveway lights & backyard lights to illuminate for pedestrian use and safety. A bollard is a type of outdoor lighting encased in a vertical post at ground level. As landscaping requirements have evolved, bollard lights have become more intricate and varied in shape and design. Bollard lights provide ground level lighting without dazzling or offending visual experience for drivers and pedestrians. Since Decorative bollard lights illuminate at lower heights, they will not bother people while brightening up the ground.
Similar Products : RGB Lights
Bollard lights are an important part of any landscape lighting design. commonly used as pathway lights, patio lights, driveway lights, walkway lights and backyard lights. They help to create a visual guide for drivers, while also providing a protective perimeter around areas like bike lanes, public squares, and traffic islands. When choosing bollard lights for your project, it is important to consider the style of the light fixture, as well as the function it will serve.
Garden path lights are a great way to add style and safety to any outdoor space. Whether you're looking to accentuate your garden or protect your property, these luminaires are a versatile and stylish solution. With so many different options available, it's easy to find the perfect bollard light for your needs. These fixtures are used for security purposes but they are also equally good for landscape lighting.
Decorative bollard lights are a great way to add some extra light to your patio, garden, landscape or outdoor space. These fixtures are designed for outdoor use and can be an effective and attractive lighting option for paths, driveways. Available in a variety of wattages and color temperatures. And with a lifespan of 50,000 burning hours, you can be sure that your bollard light will last for years.